Through a Chinese lens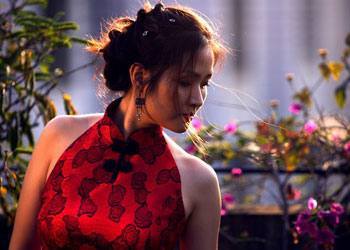 Every artist emerging in China today must decide whether to cast his lot with tradition, perhaps "updated" by the kitsch-modernist tastes of the central government, or to forgo career safety (domestic-market sales, academic positions, official commissions) and take a wild ride with the avant-garde. For photographers this choice was recently cast in stark terms by the evolution of the Pingyao International Photography (PIP) Festival [see A.i.A., Apr. '03 and June/July '04]. Cofounded in 2001 by eminent PRC practitioner and People's Photography editor Si Sushi together with French independent curator Alain Jullien, it began as an effort to place recent Chinese photography in a global context and took a great leap forward in 2002 when Gao Bo, a photographer and architectural designer, was invited to organize a large section of inventive new work by Chinese artists. The results, though impressive to foreign critics, so dismayed local officials and conservative photo-unionists that 2003 brought elimination of the so-called conceptual photography component and a massive resurgence of historical, news, fashion, travel and "beautiful scene" images. When it became clear that the 2004 installment of PIP would follow the same model, Jullien withdrew to start an alternative event, an international biennial devoted exclusively to progressive fine-art photography.
This esthetic shift was echoed in the choice of locale for the new exhibition. Pingyao, which continues with its annual show, is a historic walled city in the underdeveloped province of Shanxi, where regional authorities want to promote the UNESCO-protected site as a tourist destination. Guangzhou (formerly Canton) is a thriving metropolis of 10 million people, long a center of land, sea and river trade and now a would-be rival of nearby Hong Kong and Shenzhen. The city sustains a moderate art scene that has produced such internationally known figures as videomaker Cao Fei and installation-performance artist Yin Yiliu (from the city's Big-Tailed Elephant group). The Guangdong Museum of Art (GMA), founded in 1997 for the display of modern and contemporary work, currently operates under the artistically adventurous direction of Wang Huangsheng. In 2002, the institution launched the Guangzhou Triennial with a 1990-2000 survey of experimental Chinese art curated by U.S.-based art historian Wu Hung. "Humanism in China: Records of the Contemporary," organized in 2003 and bought in its entirety for the permanent collection, encompassed some 600 documentary and expressionistic images. This coming fall, the second version of the Guangzhou Triennial will feature an international roster of artists selected by well-known independent curators Hou Hauru, Hans-Ulrich Obrist and Guo Xiaoyan.
The initial Guangzhou Photo Biennial, held for six weeks last Jannary and February, brought together some 60 artists and groups from 13 countries under the curatorial guidance of Jullien, photographic scholar Gu Zheng and veteran photographer An Ge. The compendium of mini-shows, appearing at the museum and two subsidiary facilities, centered on the overall theme "Re(-)Viewing the City"--a rubric expansive enough to accommodate up-to-the-moment studies of urban life in China and elsewhere, along with nostalgic evocations of La Belle France favored by the exhibition's principal foreign contributors.
At the Guangdong Museum of Art
The GMA, a rambling contemporary structure with three floors of galleries and a sculpture garden, is located near several high-end apartment complexes on Er-Sha Island in the Pearl River. The main show there could perhaps most usefully be viewed as a melange of three elements: international artists, Chinese artists who have already gained critical recognition abroad, and--for Western viewers at least--some noteworthy new finds.
Given the event's organizational structure, it is no surprise that the two largest foreign surveys were exercises in francophilia. "Lights on France," a snazzy installation of color photographs displayed in light boxes or projected on a "screen" of close-set metallic bars, documented that country's mastery of sound-and-light shows at such architectural landmarks as Paris's Notre-Dame and the Grande Arche de la Defense. "Paris of the Photographers," drawn from the collection of the Centre Pompidou, comprised mostly black-and-white images by modernists like Brassai, Kertesz and William Klein. Inescapably, France's venerable Marc Riboud, an Old China Hand, was generously (though oddly) represented with a selection from his "Leeds" series (1954-2004), picturing life in the grimy English burg. No more cheerful but much more formally sophisticated were several searing postwar images by Japan's Daido Moriyama [see A.i.A., Oct. '99]. Edward West, from the U.S., mounted color studies of the neglected black townships of South Africa, each scene's intentional graininess adding to the stylized alienation effect. With merciless irony, meanwhile, the Slovak Republic's Martin Kollar catalogues "ordinary days" (the title of his undated series) in a land where one may see a full-size farm tractor dominating the front yard of a suburban house, a family campfire barbeque held in the parking lot of a discount store, a priest blessing a new truck, or shoes being sold from the hood of a car while an oompah band plays in the background.
The most intellectually ambitious ensemble was put together by Israeli curator Yael Katz Ben Shalom, complete with a wall text citing Georges Perec ("space is doubt") and evoking "a Baudrillardian eternity," which truly sounds like a season in hell. Fortunately, "Western Time--Eastern Time" turned out to be a well-chosen gathering of works by five photographers who, in various ways, examine the issue of contested space in Israel. Sometimes the intrusions are matters of life-style, as in Gilad Ophir's saturated-color shot of an American-looking shopping center in the midst of the Holy Land, or Eyal Ben-Dov's night views of Modi'in, a high-design "city of the future" built with venerable Jerusalem stone. In other instances, deadly political tensions permeate innocuous-seeming scenes: Roi Kuper's patches of water and verdure on the Golan Heights, Guy Raz's contrasting lifeguard stations--half of them on Israeli beaches, haft on shorelines controlled by the Palestinian Authority.
Many of the widely known Chinese artists presented variations--some slight, some radical--on the type of work that made their reputation. Chen Shaoxiong showed a long multifold featuring postcard-size street scenes strung together with digitally altered prints of tall buildings bending to avoid airplanes. Weng Fen complemented his usual schoolgirls-on-walls with shots of whole families seen from behind as they stand on a promontory and gaze out to sea. The tiny dark portraits that Bai Yiluo has long sewn together were here used as a fabric for a suit and the covering of an armchair. Shao Yinong and Mu Chen, having moved on from their widely exhibited series of leftover Cultural Revolution assembly halls, presented stark architectural studies of buildings whose many windows they have subtly, painstakingly taped with a crisscross pattern.
Not all the variations were successful, of course. Hal Bo, faultless in emotional pitch when he juxtaposes "identical" group portraits made decades apart, seemed not to know what to do with his many recent pictures of young lovers walking, talking and sitting in public. Badly framed and hung en masse on one wall, the images offered nothing more than the most banal sentiments, coolly observed. Wang Ningde, once known for artfully documenting small-town carny dancers, recently showed staged images with a surreal tinge--e.g., a fallen bicyclist lying beside an open umbrella on a snowy road--at the 2004 Shanghai Biennale [see A.i.A., Feb. '05]. The artist crumpled woefully in Guangzhou, however, like the mangled box-frames and broken glass in which he displayed close-up portraits of youths, often half-obscured by fabric or wax.