The academy strikes back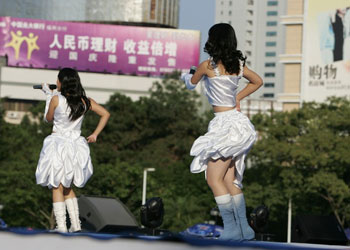 After the demise of Soviet-bloc Communism, sentimentalists on the left did a good deal of wishful thinking about a "third way" between that vast socio-economic fiasco and what they took to be the depredations of U.S.-style capitalism gone global. Anyone inclined to sympathize with this nostalgic view should take a hard look at con temporary China--where Party leaders, still partial to central planning and prescribed social goals, are struggling to control the world's sixth-largest (and fastest growing) economy and a populace that encompasses one out of every five persons alive today. If business experts sometimes joke that being half-capitalistic is about as feasible as being half pregnant, art critics can hardly avoid a similar observation about Chinese government attempts to program artistic expression.
The pathos of "approved" esthetics was particularly clear in two major art events in the People's Republic last fall. At the inaugural Beijing International Art Biennale and at the Pingyao International Photography Festival (PIP), in its third yearly installment, artistic officialdom held sway. In both cases, a paternalistic approach resulted in massive exhibitions that were perversely fascinating in their cautious propriety--though salted, inadvertently perhaps, with a number of livelier and more substantial works. These nearly concurrent Potemkin-village displays were counterposed, in Beijing, by several independent--indeed, officially disavowed--shows infused with creative rambunctiousness by artists, dealers and curators who more truly represent the intensity of artistic ferment in China at the outset of the 21st century.
Beijing: The Forbidding City?
The first Beijing Biennale was clearly conceived as an orthodox corrective, if not outright rebuke, to the country's artistic avant-garde. Confronted with major surveys that now occur cyclically in Shanghai, Chengdu and, most recently, Guangzhou (to say nothing of beyond-the-pale Hong Kong and Taipei), government authorities decided not only that the PRC's capital city should have its own global showcase but that the work on view should reflect a "true" Chinese sensibility. In concrete terms, this meant spending roughly $1 million to enable a team of 27 Chinese curators to mount two complementary exhibitions--one mostly national, the other mostly international--under the artistic direction of three high-ranking cultural officials: Jing Shangyi, chairman of the Chinese Artists Association and former president of the Central Academy of Fine Arts; Liu Dawei, vice chairman of the Chinese Artists Association; and Feng Yuan, director of the art section of the ministry of culture. Advice on international selections came from the Italian independent curator Vincenzo Sanfo, who previously helped organize exhibitions in Europe featuring Renoir, Sonia Delaunay and Frida Kahlo, and who aided the PRC in securing a national pavilion for the 2003 Venice Biennale (not used that year due to SARS). In all, some 400 works by 300 artists from 40 countries were included in the monthlong, dual-venue Beijing survey. Implicitly suggesting what counts as real art in official circles, exhibitions were limited to painting and sculpture.
The National Museum of Fine Arts devoted extensive gallery space to work by Asian artists operating within the academic system to extend and update Eastern artistic traditions. Here visitors could see, in objective form, the bland realization of the goal announced by organizers in the Biennale's introductory brochure: to present--in a weird conflation of Confucianism, social utility theory and Western classicism--"a timeless aesthetic sense of truth, goodness and beauty, as well as the cultural values beneficial to the advancement of human beings." Ironically, much of the work on view seemed like nothing so much as journeyman versions of ancient precedents, late knockoffs of modernist formal innovations or a corny combination of the two.
A noble heritage was evoked by small retrospectives of two transitional figures: Japan's 91-year-old Takayama Tatsuo, who paints stylized figures, flower arrangements and landscapes on paper or silk; and Qi Baishi (1864-1957), who in 1953--four years after the conclusion of the civil war his work completely elides--was given the title Outstanding Artist of the Chinese People for his field-and-flower contributions in poetry, calligraphy, tradition-based painting and seal-cutting. International context was supplied, in part, by a show of contemporary Korean art in the same polite vein, with the illusionistic water-drops-on-paper paintings of Kim Tschang-Yeul as perhaps the most widely known component and the chunky, semi-abstract bronzes of Chung Hyun as the most formally challenging. The French Autumn Salon Association--the same group that the Fauves shocked in 1905--celebrated its centennial with a survey of works by 36 critically negligible Western artists.
In the main exhibition of Chinese art, a few pieces managed to go beyond being merely thoughtful and handsome, The Chinese Roots (1999-2003), by Guo Zhenyu and others, is an overpowering fabric wall sculpture--more than 13 feet high and 66 feet wide--in which rootlike linen elements intertwine in oceanic swirls and fans. Shi Zhongying's Scene Netting Scene (2003) features a smooth oval of marble imprisoned in a gently curved pyramidal cage of fine steel mesh. In Ren Guanghui's Ink-and-Wash Time (2003), barren, twisting, tightly crowded branches stand in tall, boxlike, open-sided frames. Earth (2003) by Wang Jiyi consists of a clear plastic supine human figure--veritable "hollow man"--filled with junk food in bright cans and wrappers. A triangular structure of cross-braced timbers, from which rocks shaped roughly like bells hang by thick ropes, gives apparent stability to the soundless New Stone-Percussion Series 5 (2000) by Wang Hongliang. In all these works, sociopolitical commentary, though artfully sublimated to various degrees, seems at least arguably present.
Longing and fantasy predominate in Zhong Biao's acrylic Art Life (2002-03), a painting that would be perfectly at home in any Chelsea gallery. Rendered in a flat, bright style, the triptych suggests that a Caucasian boy's dreams, and thus the work's entire picture-world, correspond to a fictitious group-sex Web site called www.eden.com. One of the few other paintings of interest to a contemporary-minded viewer was Zhou Cangjiang's Complementary, April 2000 (2000), a yellow Twomblyesque abstraction.
More academic is Chen Yungang's statue Lao-tzu, a Chinese Thinker (2003), with the ripples of the black fiberglass sage's beard continuing into his robe and out across the floor. Li Xiuqin's Chatling (2003), in contrast, is a conversation grouping of nontraditional openwork bamboo furniture. The lifesize fiberglass caricatures of Chinese social types by Liang Shuo, like the tall cut-metal flowers with human heads by Ren Rong, are so broadly comic yet so unrelentingly earnest that one wonders if their creation--to say nothing of their inclusion in an international biennial--was some sort of coy esthetic joke.
No such tongue-in-cheek possibility could redeem the vast majority of international works at the Art Museum of China Millennium Monument. Installed in several curving galleries of the futuristic ovoid building, they ranged from the harmlessly pleasant--like American artist Colette Hosmer's valleyball-size earthen spheres--to the wretchedly silly, such as News from a War (1999), a smooth, armless plaster family group reacting in horror to a television set on their dining table, by Denmark's Bjoern Noergaard. In this mix, two full-length grisaille portraits of slacker youths by Tom Birkner (U.S.)--which might well have gone unnoticed in other shows--came off as fresh, honest and direct.
Many established names, including a laundry list of late '80s art stars, had been promised (if that is the right word) in advance publicity for the Biennale. Very few were actually represented. Most venerable was Sam Francis, with four paintings from 1966-86. Arman showed recent paintings of sliced-up guitars and cellos, along with a similarly deconstructed life-size Discus Thrower (2002) in bronze. Several mottled, bright-color figure studies were offered by Sandro Chia. Enzo Cucchi had a round drawing mounted like a road sign on a metal red in front of Mimmo Paladino's triptych Laboratory (2000), consisting of drawing fragments affixed to heavy paper torn in three vaguely profilelike shapes and set in screened shadowboxes.