A STYLE BIBLE IN ANY LANGUAGE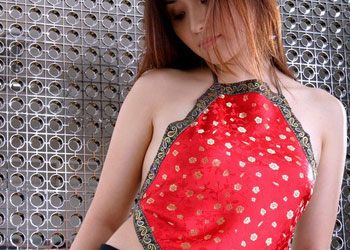 'There is this concept of something that is Vogue,' says Alexandra Shulman, editor of the British edition of the style bible from its London offices, 'it's not just five letters, it means something and quite a lot of work is put into indoctrinating the new Vogue team with the Vogue ethos.'
Shulman should know. British Vogue has been employed as probably the world's most fashionable training school and its most recent graduate is Angelica Cheung. Cheung is the woman with the task of bringing the ultimate consumer title to the People's Republic of China, the magazine's latest step in its quest for world domination.
American Vogue, the prototype, was launched in 1892. Vogue China, which it was announced this week will be launched in September, will bring the number of national editions to 16, most of Europe, the Americas, much of Asia and even Russia having already been conquered. But while each nation's edition is distinct from its relations, all roughly adhere to the dinner-party formula, as described by the American Vogue editor, Anna Wintour, dubbed the most powerful woman in fashion.
Earlier this year she attributed the success of the magazine she has presided over since 1988 to it being 'like a dinner party'. What was needed, she argued, was an intelligent guest, a provocative guest, and, of course, a pretty girl: 'Some things to raise eyebrows, some things more reassuring,' she continued.
Where each magazine varies reveals national character. In Russian Vogue, launched in 1998, page after page of exotic fur is featured, for example. The beauty pages of Italian Vogue, on the other hand, include endless images of women smoking, presumably for no other reason than that the magazine's readers identify with it. So what should be expected from Vogue China? It's approach, of course, remains to be seen, but Cheung promises that 'China's Vogue will be for Chinese readers'.
'I think it's interesting what happens when they decide to launch a new Vogue,' says Shulman. 'It has to be very glamorous, very stylish, it has to be the best of the best. The Vogues are very partisan, though. Every now and then someone says, 'Why don't you just do one European Vogue?' and I always say 'just look at the differences'. It would never work.'
Certainly neither French nor Italian editions are anywhere near so commercial as their British big sister. Instead, French Vogue, under the editorship of the ultra-cool self-proclaimed Iggy Pop look- a-like Carine Roitfeld, is unashamedly elitist, as is Italian Vogue, which serves as a portfolio for the world's most feted photographers.
'My Vogue is probably the closest to American Vogue,' Shulman says. 'It's a mixture of a quite practical, mainstream publication with a very high fashion aesthetic. Vogue is very much a balancing act.'
The British edition was launched in 1916, in the middle of the First World War. 'Make it your business to see that he carries away with him on his return to duty a refreshing vision of loveliness,' one early feature on 'leave trousseaux' read, 'and in particular, avoid the masculine'.
The founder of both magazines was Cond Nast, who created Vogue in partnership with his editor, Edna Woolman Chase. '[Nast] knew all about the radiant moment and how to make it pay,' writes Kennedy Fraser on characteristically florid form in On the Edge: Images From 100 Years of Vogue. 'He was well versed in yearning and understood the perpetual pebble of dissatisfaction even in expensive hand-made shoes.'
Nast grew up quite poor in Louisiana, escaping his background by frequent visits to his grandparents' mansion. He was, Kennedy continues, 'one of the early 20th century American merchants of dream'.
Vogue, today run by the Newhouse family, has continually celebrated the brave and beautiful since that time. At its most admirable, it takes risks. Consider, for example, Lee Miller's extraordinary photographs of the Second World War, which it is difficult to imagine any edition of Vogue publishing today. 'This is Buchenwald Concentration Camp at Weimar,' the caption read. Lee Miller's cables explained.
On a less grand scale, Helmut Newton's sexually ambivalent photographs of Yves Saint Laurent's Le Smoking caused an outrage when they were published in French Vogue in 1975, and Corinne Day's shots of Kate Moss in her underwear published in British Vogue in 1993 were seen as equally provocative.
While the magazine has established the careers of every big-name fashion photographer worth mentioning, at its best it is as practical as it is passionately aspirational. More often than not, then, Vogue plays it beautifully safe. In reality, there is less to 'raise eyebrows' and more that is 'reassuring' in its hallowed pages these days. In the 1970s, the magazine responded to the democratisation of fashion with its monthly More Dash Than Cash feature, paving the way for a million pale 'get the look'-style imitations still published in the media to this day. Outside fashion, meanwhile, Vogue has documented the rise of everyone from Virginia Woolf to Gertrude Stein and, more recently, from Diana, Princess of Wales to Madonna " featured at her English country house with her family in the current issue of American Vogue.
'I very deliberately have different styles of photography in my Vogue,' Shulman says. 'We are quite an eclectic nation so there are rather eccentric, richly styled pictures but also quite pared down, rock chick cool and a much more modern glamour.'
When asked what is the single most important thing about fashion now, Wintour says: 'Individuality. It should be personal.' Like Vogue itself, of course, which is tailored, couture-like, to its readers around the world.
TAIWANESE VOGUE
Launched: 1996; Circulation: 65,000 (not audited); Editor: Mr Sky Wu
UK VOGUE
Launched: 1916; Circulation: 206,834 (audited July-Dec 2004); Editor: Alexandra Shulman
SPANISH VOGUE
Launched: 1988; Circulation: 95,962 (audited Jan-Dec 2004); Editor: Yolanda Sacristan
JAPANESE VOGUE
Launched: 1999; Circulation: 85,000 (not audited); Editor: Kazuhiro Saito
RUSSIAN VOGUE
Launched: 1998; Circulation: 150,000 (not audited); Editor: Aliona Doletskaya
BRAZILIAN VOGUE
Launched: 1975; Circulation: 50,000 (not audited); Editor: Ignacio Loyola
GERMAN VOGUE
Launched: 1979; Circulation: 139,749 (audited July-Dec 2004); Editor: Christiane Arp
KOREAN VOGUE
Launched: 1996; Circulation: 99,500 (not audited); Editor: Myung Hee Lee
AUSTRALIAN VOGUE
Launched: 1959; Circulation: 65,116 (audited July-Dec 2004); Editor: Kirstie Clements
ITALIAN VOGUE
Launched: 1965; Circulation: 97,328 (audited Nov 2003-Oct 2004); Editor: Franca Sozzani
GREEK VOGUE
Launched: 2000; Circulation: 28,009 (audited July-Nov 2004); Editor: Elena Makri
FRENCH VOGUE
Launched: 1921; Circulation: 115,070 (audited Jan-Dec 2004); Editor: Carine Roitfeld
US VOGUE
Launched: 1892; Circulation: 1,275,359 (audited June 2004); Editor: Anna Wintour
MEXICAN VOGUE
Launched: 1999; Circulation: 10,265 (audited Jan-June 2004); Editor: Eva Hughes
PORTUGUESE VOGUE
Launched: 2002; Circulation: 29,155 (audited July-Dec 2004); Editor: Paula Mateus
Copyright 2010 Independent Newspapers UK Limited
Provided by ProQuest Information and Learning Company. All rights Reserved.